January 9, 2019
Elementor Acquires Layers WP
As we head into 2019, and WordPress goes through a lot of change, we have come to an agreement to sell Layers to the great team of people at Elementor.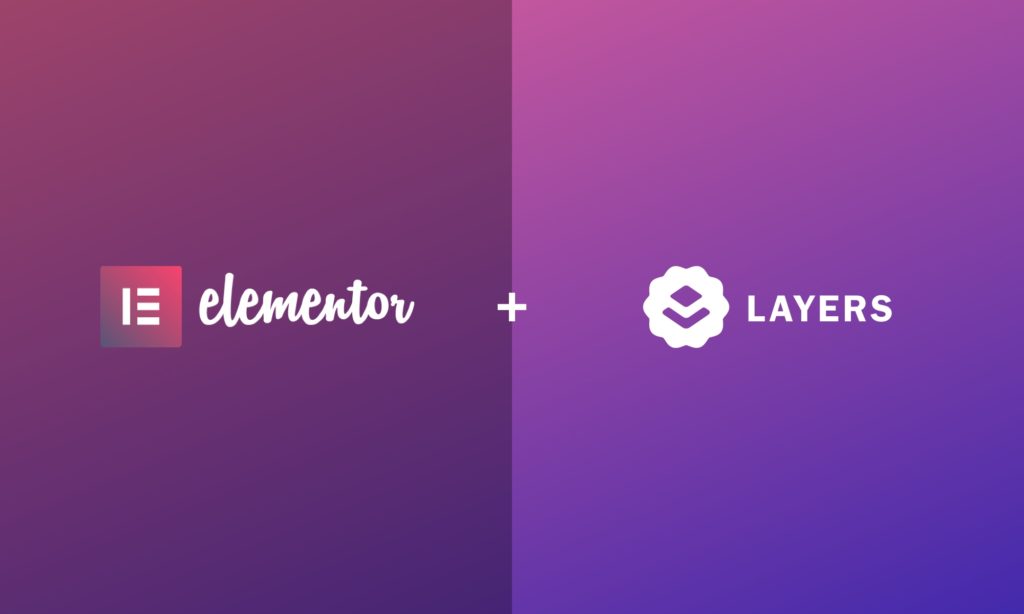 When we first launched Layers it was our sole intention to improve the user experience of WordPress via a powerful robust theme.
Our dream was to make it familiar to use and easy for literally anyone to get their website online and with hundreds of thousands of downloads and thousands of active websites, we helped many business owners and developers build some incredible sites.
However with the arrival of Gutenberg we realised that a big change was required for Layers to keep pace. A massive investment of time and money was needed so we had to assess the best way forward. Having spent all of our 20's working 18 hour days to build beautiful WordPress products we reached a point where we felt it best to partner with another company to try take Layers to the next level. So around June last year we started to look at some options.
After a lot of searching we found a company which we felt best represented our values of UX, design and community. We even agreed that their page builder was faster and more flexible than Layers and begun negotiating the next steps.
With that Marc and I are happy to announce that Elementor have agreed to acquire Layers and it's digital assets. We believe that the Elementor builder is the best alternative to Layers, with its fast page builder that allows anyone to get their business online quickly and with as little friction as possible.
However more importantly we also believe that the people at Elementor share our values in user experience and support. With a community considerably bigger than that of Layers we are confident that you will easily be able to find your way around their incredible technology with almost no learning curve.
We feel that this acquisition has come just at the right moment when WordPress itself is going through a huge amount of change. With the release of Gutenberg and the new built-in post editor we realised that much of Layers would need to change in order to keep pace with the new look of WordPress and feel that Elementor is the best company to respond to the shifting tide of the industry.
Introducing Layers for Elementor
With the sale of Layers to Elementor we have created a brand new Layers theme that is completely free to download. The major difference from this version compared to all previous Layers versions is that all our Pro features are now built in. The ability to resize your logo, customize your buttons and style your menu are no longer part of a separate plugin.
Layers for Elementor is 100% compatible with the Elementor plugin and it can be downloaded today… for free ?
Thank You
We have no doubt that you will have some questions about your existing Layers websites and support, so we have created an FAQ section below. Should you have any concerns you can email us directly with your questions and we will gladly assist.
Thank you to each and every one of you who has downloaded, used and purchased a Layers product to build your website. We are 100% confident that by moving to Elementor you will find even more value and be able to take your site to yet another level.
David + Marc Perel
---
FAQ
Will my Layers website still work after this acquisition?
Yes your Layers website will continue to function as normal. Updates will continue for 60 days and we will still be able to support you during that time. After the 60 day period your Layers website will continue to work with the latest version of WordPress, however feature updates will no longer continue.
Will I still receive support for my Layers website?
Layers support will continue for at least 60 days after the Elementor acquisition. If you have any issues with your Layers website please contact us via info@obox.co.za and we will reply within our usual 24 hour time frame.
Will I still have access to my Layers products?
Yes, for the next 60 days you can download your Layers products via the website. The free version of Layers is open source and will be accessible via the GitHub repository however updates to the theme will be halted in February 2019.
Is Layers for Elementor compatible with Layers 2.0?
Layers for Elementor uses the Elementor builder in place of the old Layers builder, that means that existing Layers sites will need to be re-built using the new method. We suggest backing up your site or trying Layers for Elementor on new sites.
How do I download Elementor?
Simply visit this page on the Elementor website to download the free version of their site builder.
Got any more questions? Please drop us an email and we will reply right away!